Don't you just love the new year? New starts, new beginnings, new fun stuff to explore!
At the beginning of every year I treat myself to some fun new products to play with and this year I'm starting off my playtime using Inktense Blocks which are highly pigmented inks in a solid stick. The colors are very vivid and saturated and they work amazingly well on fabric.
Here I'm trying out some inktense blocks on fabric paper. Doesn't it look yummy?
I personally love using all sorts of different mixed media products such as gesso, acrylic paint, molding paste, stamps, inks, etc, but it gets a bit boring slapping this stuff around on paper and stretched canvas. So when you introduce your mixed media products to fabric, well things start to get much more interesting.
This year I plan to make plenty of time to bring you lots of new tutorials and techniques, as well as new and creative ways to work with fabric and mixed media techniques, because playing with mixed media is just so much fun and there are so many possibilities. And then the fun just keeps getting better because you get to cut it up and sew it!
Since today is the first day of the year, today I'm having a little playtime time in the studio. You can tell I'm having fun just by looking at the mess!
Ooops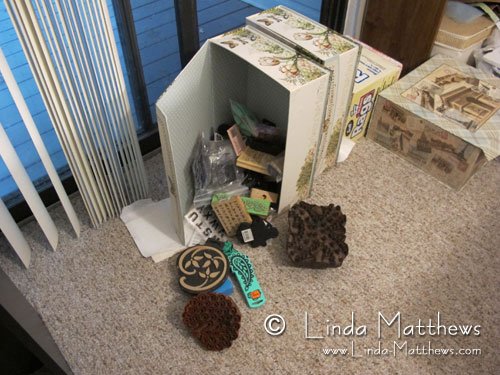 This year I'll be working a lot with fabric paper in many different ways. If you don't know what fabric paper is, you'll find a quick tutorial here on the blog.
For more information about Inktense, visit the Derwent Pencils website where you find lots of tutorials.
You can also find links to purchase Inktense in the Surface Design section here on my Resources page.
Thanks for stopping by and check back soon when I'll be showing you more of what you can do with Inktense.