Now that I'm finished embellishing the design for the front of the handbag, it's time to put the pieces together.
When I began, I had an idea in mind of how to construct the handbag however things turned out much differently. I hadn't planned to put a frame around the printed images, but the contrast in colors seemed necessary. Without the frame the print looked washed out and a little dull, but with the frame the print looks both bold and charming at the same time.
The size of the handbag is about 14″ wide by 9″ high and 4″ deep. I also made lined straps which is my new favorite thing, and I made the straps long enough so that the bag can be used as a shoulder bag.
The print on the back looks a little ordinary so I think I'm going to add some hand stitches to bring it to life.
It's also got some feet to protect the bottom.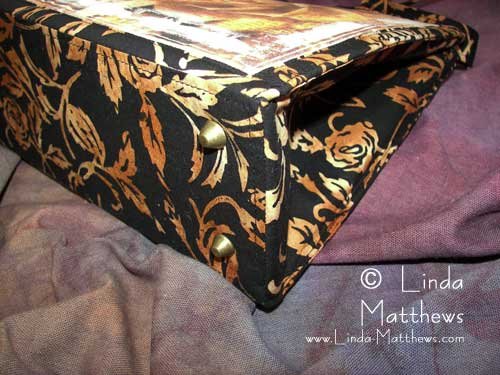 Next will be the lining and some additional embellishment. Not sure where I'm going with that, so we'll see where it takes me.