Can you guess what my favorite embellishment is? I use it on most projects I make and I never tire of making it or thinking up new ways to use it. Can't guess? Why it's Machine Wrapped Cording of course.
If you've never heard of machine wrapped cording, it's simply a piece of cording that you make using yarn, nice top thread, and the zig-zag stitch on your sewing machine. If you're looking for the tutorial for machine wrapped cording, you can find it here.
Machine wrapped cording is a really versatile embellishment and can be made slim and elegant, or chunky and funky depending on what technique you use to make it. It's best feature is that it can be made to coordinate with your projects in either color or texture or both.
I use it a lot on book wraps as a wrap-around tie …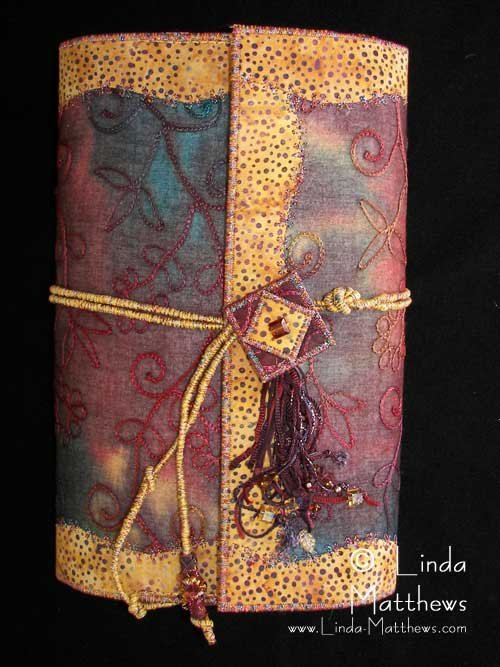 For edging and wrap-around ties on my fabric journals …
I use it for edging and also to hide the joined edges on my fabric boxes …
As well as for more functional purposes as part of the closure on the lid of this fabric box …
You can also use it with the circular sewing attachment to edge circular applique blocks ….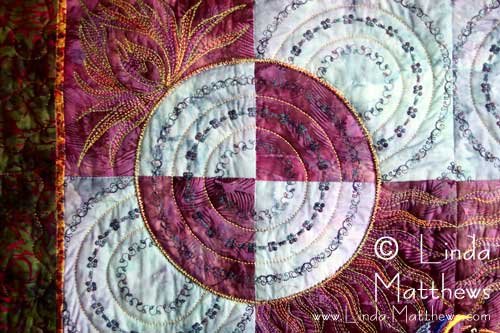 And for decorative elements on art quilts …
If you haven't tried machine wrapped cording yet, give it a try.