I haven't been able to get much sewing done lately (you know I suffer withdrawals if I can't get to sew on a regular basis). But I did find a little time to make a couple of small zippered pouches which turned out quite well I think. And the best thing is they only took about an hour. I love small projects!
I used a photo of my new grandson Jake, added some photoshop touch ups, then printed it on fabric to make these two different styles.
I kinda like this one.
But I think I like this one the best.
I'm going to use these for organizing stuff in my handbag; they're just the right size at about 4.1/2″ x 7″. I always worry about using white fabric in or around my handbag (unspeakable things lurk in there) but these are fully washable so I think they'll be fine. Plus I think I'll make another couple for family gifts – the perfect weekend project!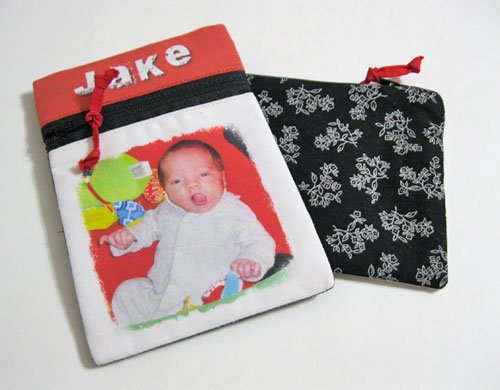 I hope you find a little time this weekend for some quick projects.